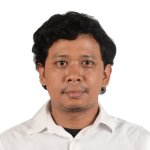 Arief Rahman, S.Si, M.Si
Head of Division of Community Development
Jl. Abadi No. 16, Kedung Badak Baru, Kota Bogor
Education and Training
Training on Historic Urban Landscape
Held by Pan-Sumatra Network for Heritage Conservation (Pansumnet) and Museum Timah Indonesia
Magister Sains (M.Si), Regional and rural development planning
The Graduate School, Bogor Agricultural University, Indonesia
Sarjana Sains (S.Si), Biology Department
Biology Department, Faculty of Math and Natural Sciences, Brawijaya University, Indonesia
Working Experience
Non-permanent Lecturer
Regional Planning Science Study Program, Graduate School of IPB University
Delivered the course of Regional Planning Studio in the second semester of each academic year.
Head of "Komunitas Membangun" Cooperative
"Komunitas Membangun" Cooperative
Initiated the forming of the cooperative in 2016, and three years later (2019) took the lead and manage it. The cooperative is owned by members of Center for Regional System Analysis, Planning and Development (Crestpent), IPB University.
Executive Editor
Journal of Regional and Rural Development Planning (JP2WD)
JP2WD is a publication media for original manuscripsts and published three times a year. It covers topics related to regional science, regional and/or rural planning, regional economics, spatial and environmental planning, regional information system, community development, and public policy.
Founding Board
Komunitas Lansekap Budaya/KALBU (Cultural Landscape Community)
A community-based organization which the main interest and expertise is in cultural landscape preservation and development.
Member of Tim Percepatan Pelaksanaan Prioritas Pembangunan Kota Bogor/TP4
(Unit of Acceleration for Bogor Development Priorities Implementation)
As an unit directly under and responsible to the Mayor of Bogor city, I support the Head of TP4 in conducting monitoring and evaluation of the local government bodies, including arrangement of necessary activities needed to accelerate the implementation of Bogor development priorities.
Head of Division of Planning and Community Development
Center for Regional System Analysis, Planning and Development (Crestpent), Bogor Agricultural University
To lead and manage the Program which consist of four researchers and one secretary. As one of three Programs in Crestpent, the Program conducting its main tasks on researches, consultancy services, and community services. All of the tasks are subject to the Program area of expertise, which are (i) community development, (ii) participatory approach, and (ii) the Commons (commonpool resources and common property).
Director
Perkumpulan SALAM
To lead and manage Perkumpulan SALAM, a non-governmental organisation, in conducting its main tasks on NGO's strengthening and capacity building.
Field Coodinator
Yayasan Pembangunan Berkelanjutan (YPB) – LEAD Indonesia
To lead and manage the field teams in conducting policies advocacy in community and local government level to create enabling environment for aquamarine certification in Bali Province, Indonesia. The work was conduct in partnership with Marine Aquarium Council (MAC) and Reef Check.
Publications
Walik Lubang: Memetik Hasil Membongkar
Crestpent Press, Bogor Indonesia, 2008. ISBN. 978 – 979 – 25 – 7254 – 4.
Collective Actions: Necessary but Insufficient Condition for Participatory Coastal Management
International Seminar Geospatial and Human Dimensions on Sustainable Natural Resource Management (proceeding). 2011. ISBN. 978 – 602 – 14437 – 0 – 5
Konflik dan CSR dalam Perspektif Kelembagaan
Prosiding Hasil-hasil Kegiatan dan Penelitian P4W-LPPM IPB (proceeding). 2014. ISBN. 978-602-72009-1-3
Community-based Ecotourism Planning towards Sustainable Natural Heritage in Anambas Islands Regency, Indonesia
in 18th ICOMOS General Assembly and Symposium (proceeding)
Agro-Maritim 4.0: Kontribusi Pemikiran IPB untuk Indonesia
As team member
Presentations
9th International Conference of Rural Research and Planning Group (RRPG)
Works of Institution in Minimizing Transaction Costs.
Presented at "9th International Conference of Rural Research and Planning Group (RRPG)". Denpasar, Bali, 6 – 8 July 2018. (elected as the best presenter).
7th International Conference on Environmental Future: Humans and Island Environments
Small Island Conflicts in Forest Governance
Abstract accepted for oral presentation at "7th International Conference on Environmental Future: Humans and Island Environments". Honolulu, Hawai'i, 16 – 20 April 2018
4th International Wildlife Symposium
The Legal Framework to Address Tenurial Conflict between Conservation Areas and Local People
The Legal Framework to Address Tenurial Conflict between Conservation Areas and Local People. Presented at 4th International Wildlife Symposium. Banda Aceh, Indonesia, 23 – 25 October 2017
The 8th International Conference and Field Study of Rural Research and Planning Group (RRPG)
The Changing of Social Forestry Regime in Indonesia
The Changing of Social Forestry Regime in Indonesia. Abstract accepted for oral presentation at "The 8th International Conference and Field Study of Rural Research and Planning Group (RRPG)". Yogyakarta, Indonesia, 16 – 17 May 2017
The 7th International Conference and Field Study of Rural Research and Planning Group (RRPG)
Predicting Outcomes from State Mandated Village Participatory Planning in Indonesia
Predicting Outcomes from State Mandated Village Participatory Planning in Indonesia. Presented at "The 7th International Conference and Field Study of Rural Research and Planning Group (RRPG)". Johor Bahru, Malaysia, 15 – 17 August 2016
Project
The study of essential ecosystem area in Nunukan and Tarakan District
The study of social forestry-based economic development on rural area
The making of Rural Area Development Plan (Rencana Pembangunan Kawasan Perdesaan/RPKP) at Kotawaringin Barat District
The making of national mid-term development technocratic plan (RPJMN Teknokratis) 2020-2024
The making of Green Campus masterplan for IPB University
The making of Strategic Environmental Assessment
The making of Strategic Environmental Assessment for District of Bekasi (2019), District of Karimun (2012), Province of Kepulauan Riau (2012), Kota Bogor (2014), District of Mahakam Ulu (2016), District of Bangka Barat (2016), Kabupaten Bogor (2018)
The making of College of Vocational Studies-IPB University Strategic Plan 2019-2023. As team leader
The making of Research and Development Masterplan
The making of Research and Development Masterplan for District of Kepulauan Anambas (2018), Lingga District (2019)
The making of Research and Development Masterplan for District of Kepulauan Anambas